---
Sale
Sale
Sale
Sale
Sale
Sale
Sale
Classic Hombre Oxford Zapatos
Sale price $57.99 Regular price $129.99
Don't let your casual dress game turn to shame!
Offering long lasting comfort and breatha-bility, our Classic Hombre Oxford Zapatos, a designer casual dress shoes, is created with an exclusive textile lining, fixed synthetic insole, and rich suede material!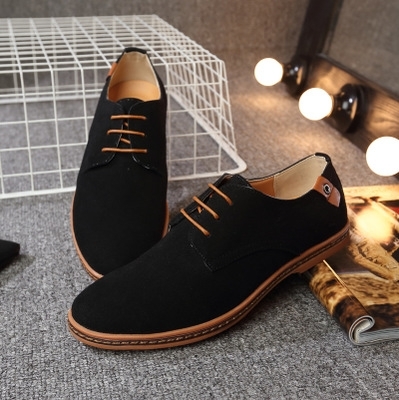 Sizes are listed in US. Please use size chart if needed



Get yours NOW!!





Is there a minimum order amount for Free Shipping?

No. We offer FREE SHIPPING on all of our items. Every item comes with a personalized tracking number that will be emailed to you once the order is fulfilled. Please allow for a couple of days to receive your tracking information via email.

What is the average shipping & delivery time?

Our items can take anywhere from 2-3 weeks for delivery with our Free Shipping method (Tracking Included). Check Order Tracking to get an up to date tracking status on your order. Please note that the postal service website may take upto 5 business days to accurately reflect the exact location of your items. If you haven't received a tracking number, please check your Spam folder to be sure or visit our Order Lookup page and simply enter your order id and email address to check the status of your order.

What type of payments do you take?

We accept all forms of Credit Cards including MasterCard, Visa, American Express, Discover and more. We also accept Paypal and other forms of electronic payment. Your transaction is 100% safe and guaranteed. We use the highest level of encryption and have industry standard McAfee 24/7 live protection and monitoring. 

I placed an order, but never received a confirmation email.

As soon as you place an order, you will receive a receipt in your inbox. If you do not receive an email from The Trend Square within hours of placing your order and it's not in your Spam folder within 1-2 business days, please contact our Customer Care for assistance.

I am an international customer and I am not sure how much I'll be charged for a purchase

The Trend Square is proud to service our customers from all over the world! If pricing is not shown in your local currency, it will default to USD at checkout using the most upto date conversion rates. Shipping is FREE Worldwide!

What if I don't receive my order or if it comes damaged?

If for some reason you do not receive your order within 14 business days, check the Order Status . If for any reason your item arrives damaged, we will issue you another item free of charge! If you do not see any updates or have received a damaged item, contact us at support@thetrendsquare.com.

>